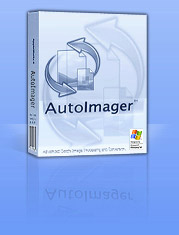 Now supports over 140 graphics file formats, with 70+ image editing operations, filters, and effects!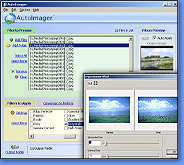 View Screenshots
Online Help

Graphics Converter Software - Convert Graphics Formats in Batch Mode
The AutoImager software features a powerful graphics conversion features that can convert among AFP, AWD, BMP, CMP, CUR, DCX, DICOM, EPS, EXIF, FAX, FPX, GIF, ICO, IOCA, JBIG, JPEG 2000, JPG, MODCA, PCX, PDF, PNG, PSD, RAS, SCT, SGI, TIFF, TGA, WFX, WPG, and many more! Conversion can be performed in batch mode, either via an easy to use interface or extensive command-line support. Multi-page files are fully supported by the graphics conversion software. AutoImager can also edit graphics files, such as auto-trim, deskew, flip, mirror, resize, resample, rotate, crop, shear, hole punch remove, border remove, line remove, dot remove, invert, brighten, sharpen, anti-alias, average, buttonize, contrast, despeckle, emboss, gamma correct, grayscale, hue, saturation, and much more...all in batch mode (of course, you can also process only one graphic file if desired). The software's graphics conversion process is very fast and easy to use. Advanced options are available for those who want to take advantage of them, though they are completely optional, making AutoImager the perfect graphics conversion software for users of any experience level. Click here for more information on AutoImager and its graphics conversion features or download your copy now.